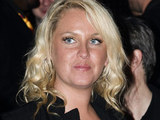 Rex Features
Josie Gibson is recording a Christmas song with The Cornish Wurzells.
The Big Brother winner, who previously performed with the Wurzells during Big Brother's Little Brother, is releasing a charity single with the band.
Russ Holland, the group's singer and banjo player, said: "We had the idea to release a Christmas song to beat Simon Cowell to number one and show everybody what us country bumpkins can do. We've sung with Josie before and when we told her about the single she asked when she could come and record it."
The single is called 'Christmas Day in the Morning' and features a choir of children from Bugle, Mid Cornwall. Profits from the single will be donated to the Children's Hospice South West.
Holland explained: "We sing the song as a duet and the children sing "three ships come sailing" in the chorus, which I think is quite fitting because the new children's hospice being built in Cornwall will be called Little Harbour, so it all fits together."
Holland added that he hopes the song will be successful.
"We've already recorded the single and we're putting it on iTunes, so it should be available to download soon," he said. "People have told us that it's catchy and so hopefully it'll do well." (from DS)
......THE BOSS......
"Always be yourself because the people who mind don't matter, and the people who matter don't mind"
---
Permissions in this forum:
You
cannot
reply to topics in this forum