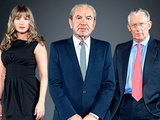 BBC
The orders placed on Wednesday's episode of
The Apprentice
were fake, a report has claimed.
The
Daily Star Sunday
reports that the record sales secured with retailers by the candidates were simply provisional orders.
A spokesman for Babyglow, one of the products featured in the show, admitted that he was unaware of the massive order placed by Kiddicare until the programme aired. Liz Locke appeared to have secured an order for 10,000 units, leading team Apollo to victory.
Howard Robinson said: "The first real awareness we had was when the show went out. Obviously, we picked up the phone to Kiddicare afterwards and they should have their first delivery by now.
"But it's not the amount on
The Apprentice
. Babyglow only launched this week in the UK and do not yet have that level of stock available."
B&Q said that its orders were "hypothetical", while Adrian Winnicott, manager of Rowlands Home Hardware, revealed that "no actual transaction took place".
An
Apprentice
spokesman said: "As part of the task, the candidates had to pitch a product to a number of retailers who decided whether to place a provisional order. The producers then put the product owners in touch with the retailers to confirm the order." (from DS)
......THE BOSS......
"Always be yourself because the people who mind don't matter, and the people who matter don't mind"
---
Permissions in this forum:
You
cannot
reply to topics in this forum